Baekje Cultural Land
Into the splendid culture of Baekje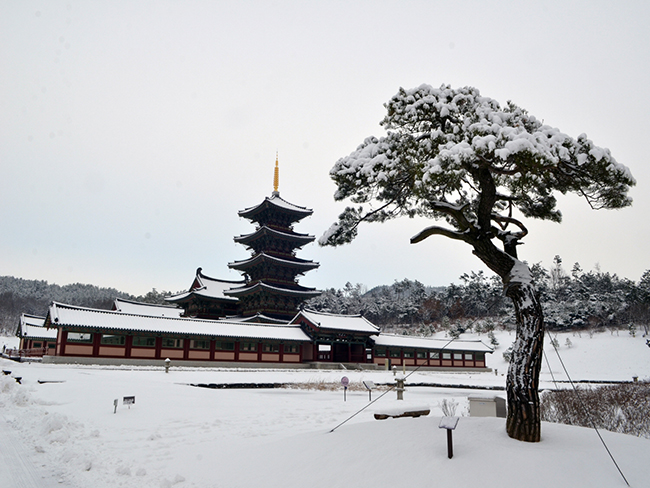 ▲ Snowscape of Baekje Cultural Land
As Korea's largest History Theme park, Baekje Cultural Land was built on an area of about 3,305,785m² in Gyuam-myeon, Buyeo-gun in Chungcheongnam-do between 1994 and 2010 in order to reenact and preserve the beauty of Baekje's history and culture.
Baekje Cultural Land has the following attractions: Sabigung Palace, which reproduced a royal palace of Baekje Dynasty; Neungsa Temple, which is a royal temple, and; Ancient Tomb Park, which has restored tombs. Other must-sees include the Living culture Village as well as Wiryeseong, where visitors can see the life of Baekje people who lived 1,400 years ago.
The Living culture Village shows the reproduction of Baekje's houses where the nobility and commoners used to live, offering various themed experience programs. Wiryeseong displays a reproduction of Baekje during the era of Hanseong Baekje. Within the low fortress are a lookout tower, a royal place, and several houses of commoners.
In particular, Baekje Cultural Land holds a permanent performance dubbed "The Birth of Chiljido (the Seven-Branched Sword)," which describes conflicts with surrounding nations that envied Baekje's great metal technology. The performance will be held twice a day, at 11 am and 2 pm.
Baekje Cultural Land is also a popular filming location for movies and TV dramas. According to the Baekje Cultural Area Development Office, 11 filming projects including movies, TV dramas, and entertainment programs have been shot in Baekje Cultural Land since its opening in 2010.
Baekje Cultural Land offers various facilities such as Baekje Historical Museum, Lotte Buyeo Resort, themed outlet mall, and Baekje Forest. The Korea National University of Cultural Heritage and Lotte Buyeo Resort, which were established within the area by the Cultural Heritage Administration of Korea, provide historical and cultural experiences as well as leisure, recreation, shopping, and other experience-oriented activities for visitors.
"Baekje Cultural Land is a historical experience space equipped with shopping (outlet) and recreation (resort) facilities. It is also a famous filming location for movies and dramas. Furthermore, since Baekje Historic Areas were registered as World Heritage, many domestic and foreign tourists visit Baekje Cultural Land. We will continue to make it a historical and cultural space full of things to see and enjoy," said Yi Jong-yeon, the maintenance manager of Baekje Cultural Land.
- Webpage: Baekje Cultural Land http://www.bhm.or.kr
- Tel.: +82-41-635-7740